ONIKUMA
ONIKUMA is the world's leading manufacturer of professional gaming and voice equipment. As an official partner of WCG2016 and a sponsor of LCS, we will always do our utmost to provide the highest quality and innovative gaming equipment to our customers around the world.
Why choose ONIKUMA K7
The ONIKUMA K7 Rear Hanging Headset is a major gaming headset that provides live sound fields, deep bass, crisp sound and powerful sound for a variety of games. Its ultra-soft earmuffs are suitable for long-wearing and are the perfect headphones for players!
Features
Built-in a high precision 40mm magnetic neodymium driver and an ultra-thin membrane film. High-quality sound production unit offers you high-resolution excellent sound effect and different experiences in games The soft cushion of headband and skin type protein breathable earmuff gives you a comfortable wear experience The sensitive and noise-isolated microphone picks up your voice and delivers more accurate, clearer and smoother voice, you can communicate with your teammates successfully and enjoy the immersive game world The headband can be self-adjusted, the adjustable length is 5.5cm, besides, the microphone can be retracted, the length is designed by you, the longest length is 11cm Compatible with Xbox One( adapter not included ), New Xbox One, PS4, , PC, laptop, iOS device, Android device and other devices with 3.5mm jack Comes with a separate rotary volume controller and a microphone mute button for you to operate conveniently. The knitted audio cord is strong and long-lasting
Compatibility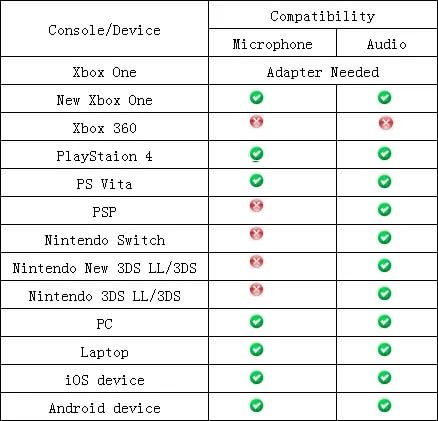 Specifications
Model: ONIKUMA K7 Color: Black/red, Black/blue Speaker Size: 40mm Impedance: 16 ohm±15% Directionality: Omni-directional Sensitivity: 120 3db Cable length: 2.2M 0.15 Frequency range: 20-20KHz Microphone: 4 x 1.5mm Working Current: 100mA Microphone sensitivity: -383dB Headset jack: 3.5mm 4 Pin Product size: 10.00 x 9.00 x 15.00 cm / 3.94 x 3.54 x 5.91 inches Product weight: 275g Package size: 13.50 x 10.70 x 16.50 cm / 5.31 x 4.21 x 6.5 inches Package weight: 375g
How to make it work?
[PS4] 1. Plug the 3.5 mm plug cable into the controller. 2. Press and hold the ps4 button to enter the system settings. 3. Go to "Peripheral Machines", "Adjust the sounds and devices, change 'Output to Headset' to 'All Audio'. [Xbox one] If your xbox one controller has a 3.5mm audio interface, you can use the gaming headset directly. Otherwise, "MICROSOFT ADAPTER" will be required. [PC] Plug the 1 to 2 3.5mm splitter cables into the audio input and microphone input of the desktop.
Note
This headset is NOT USB-Headset, the USB interface is only used for power supply to LED light.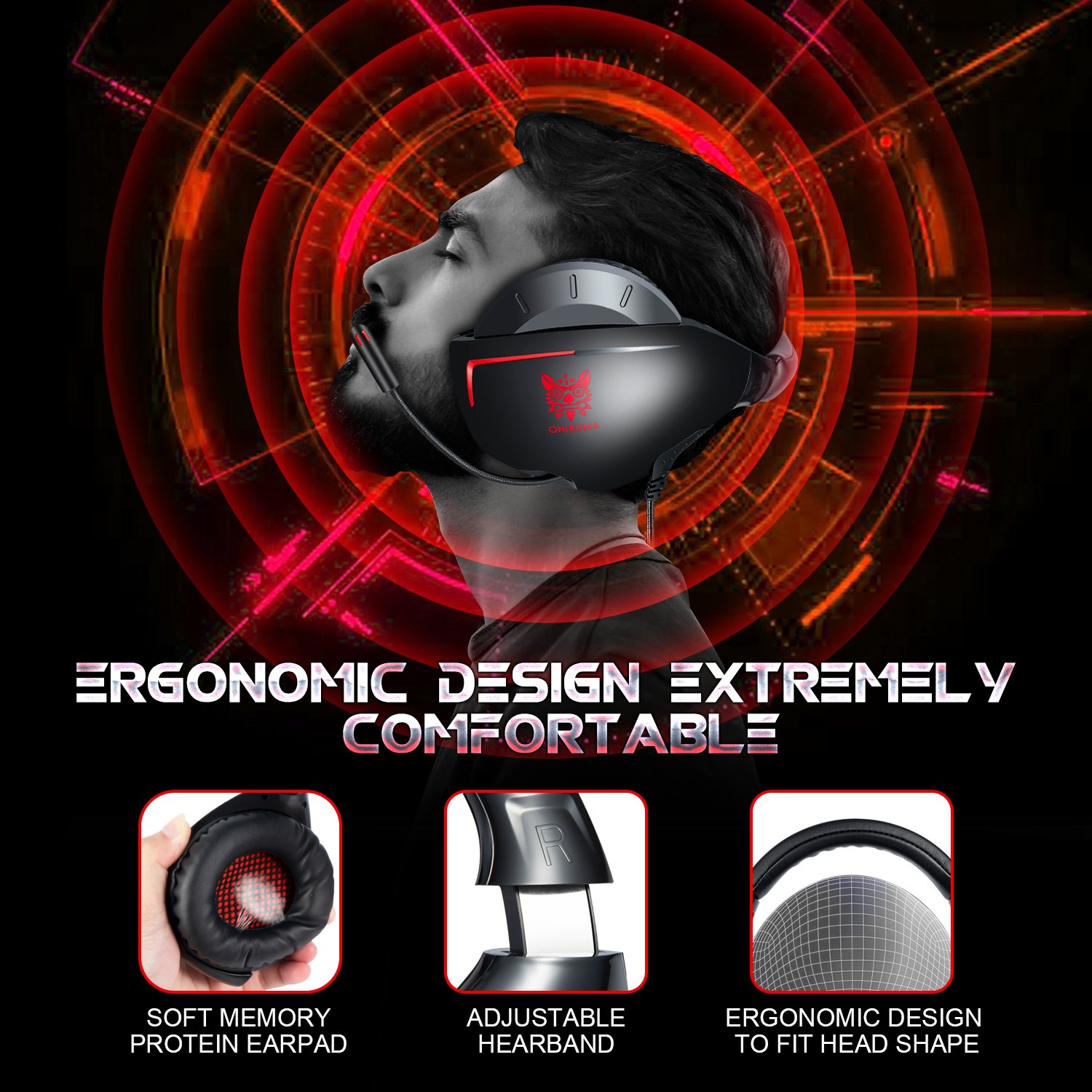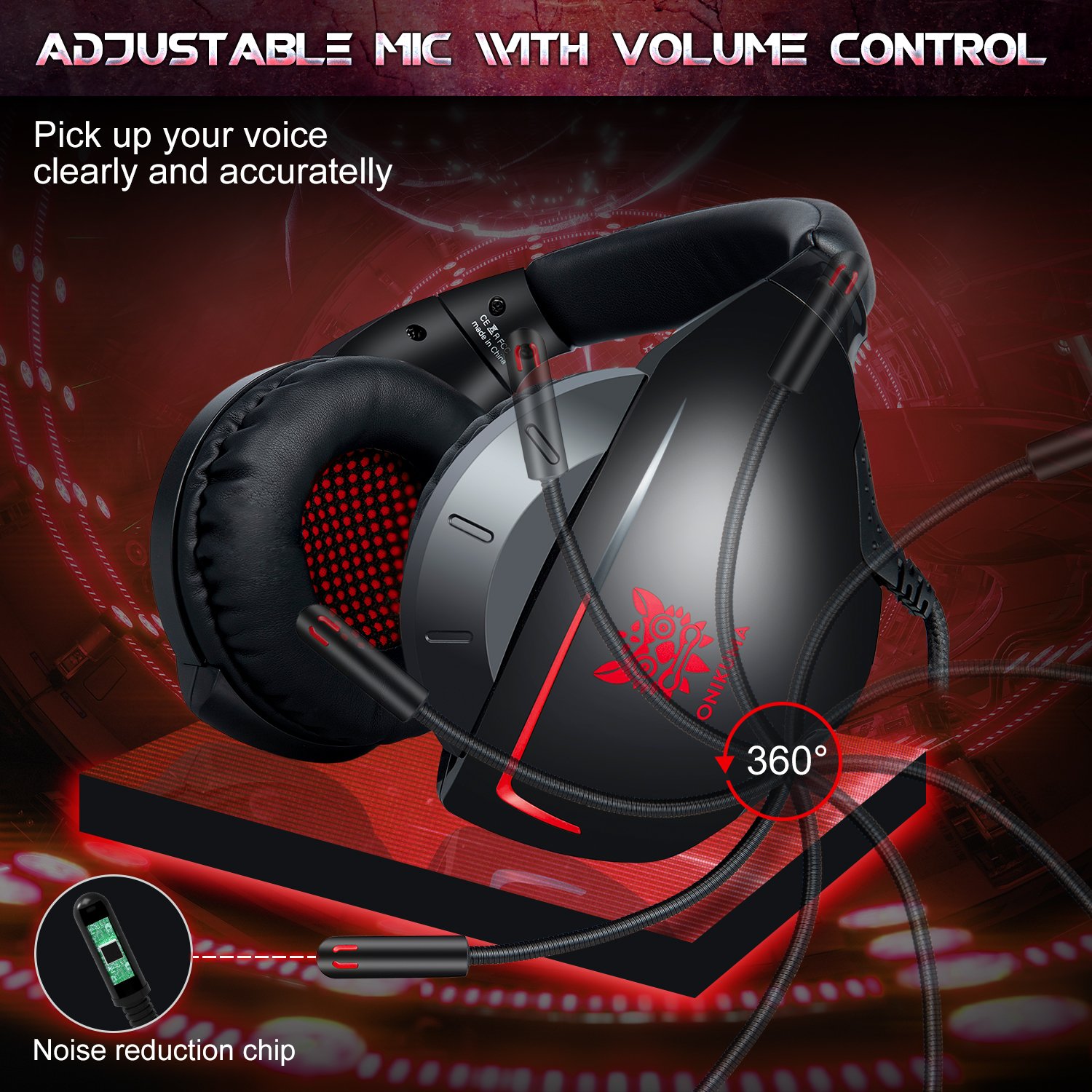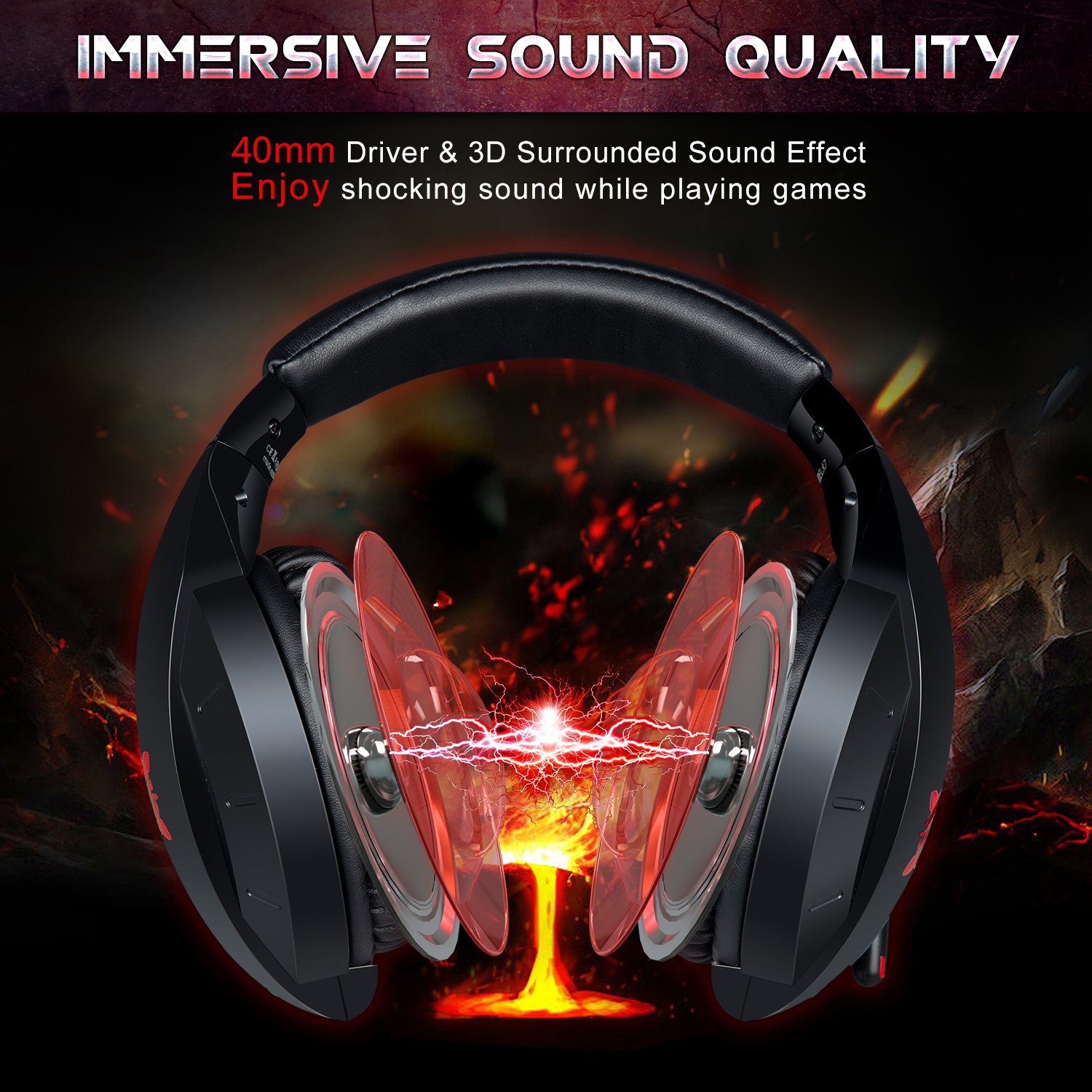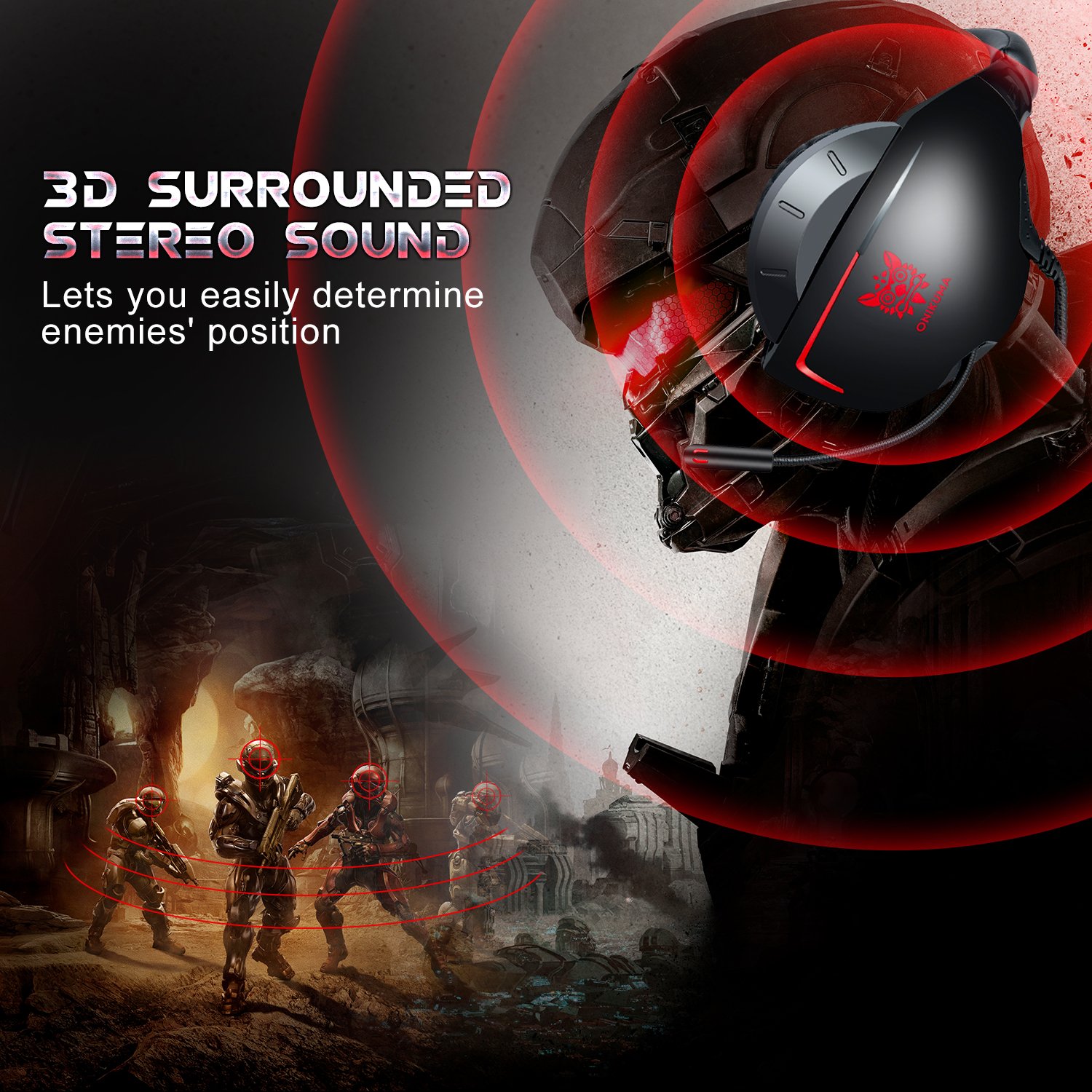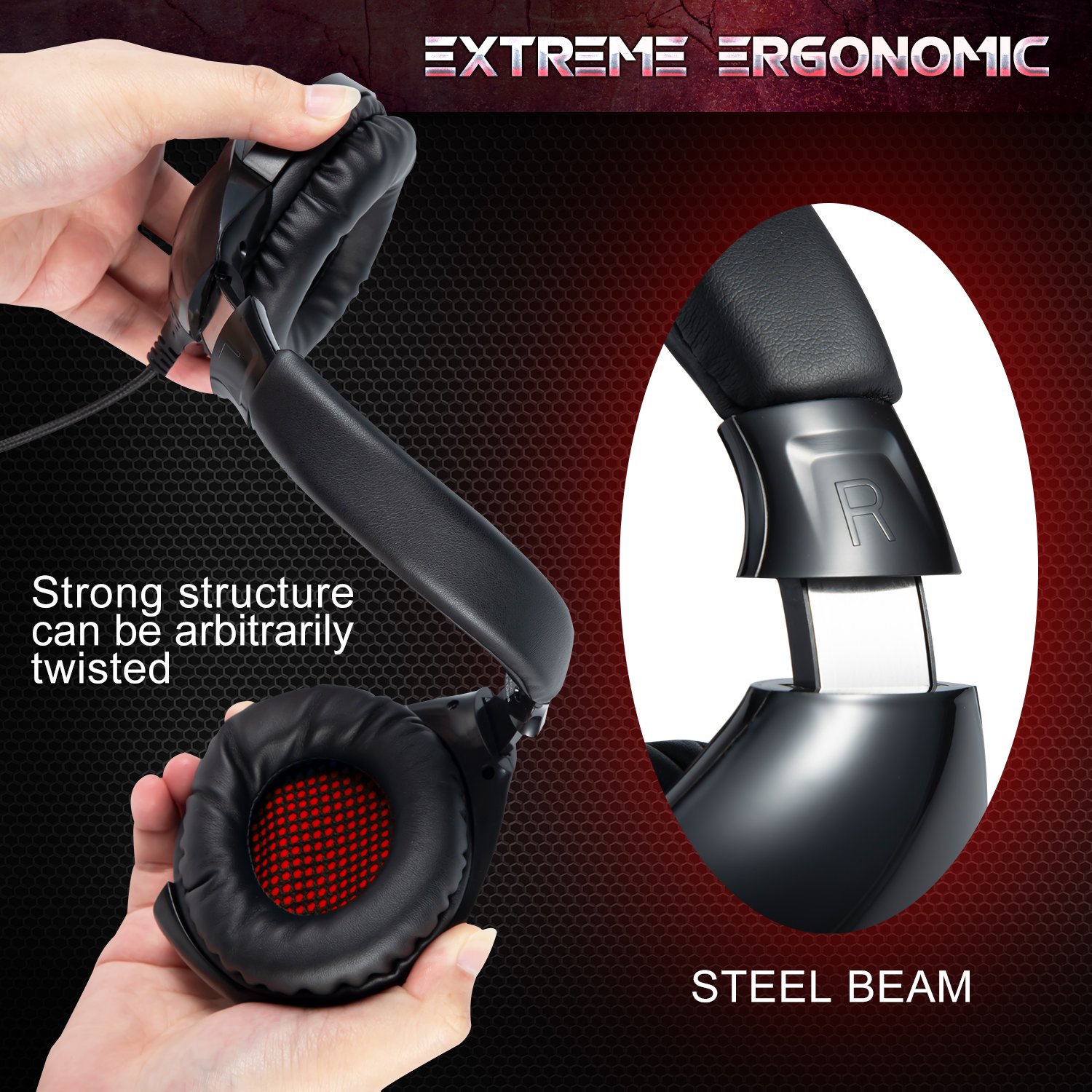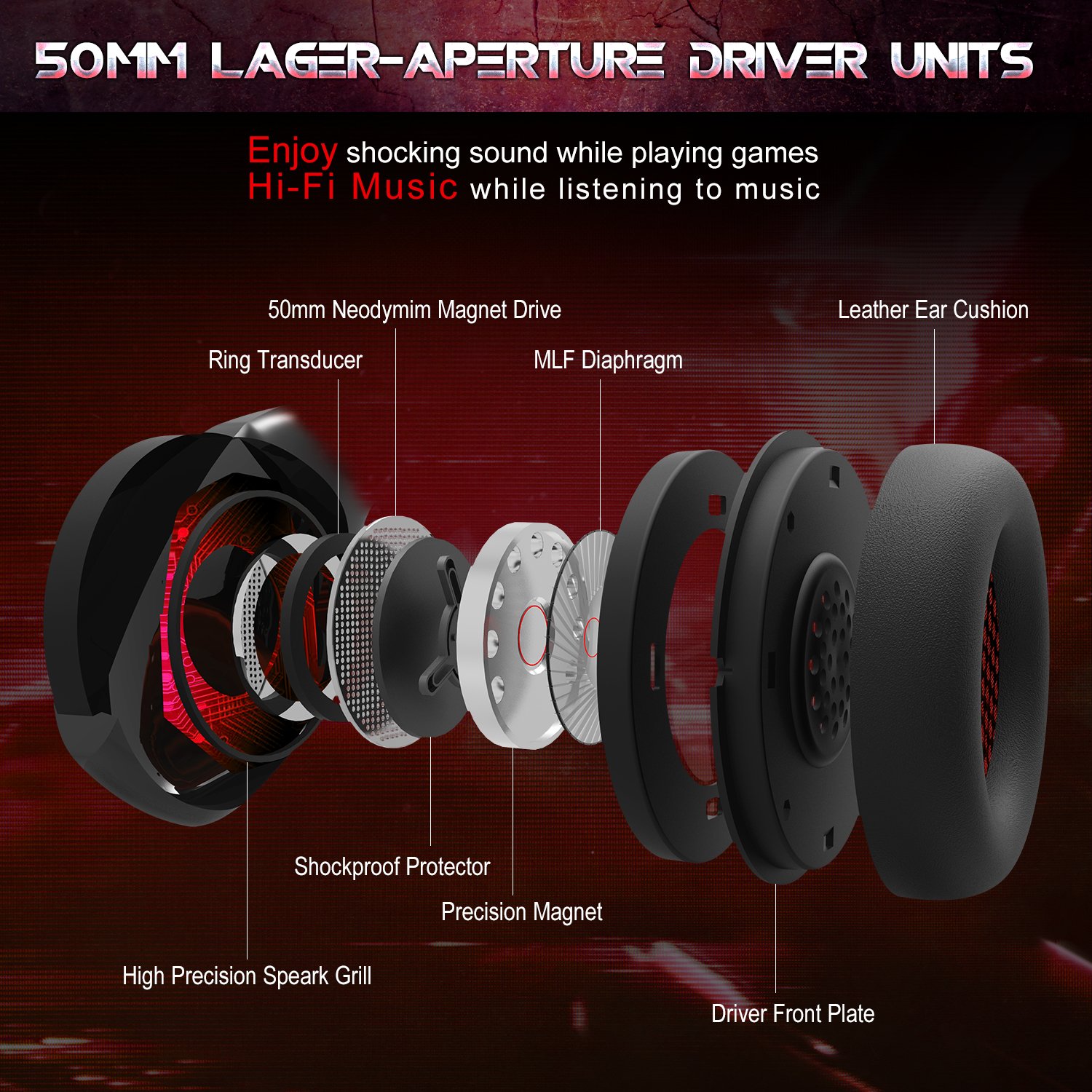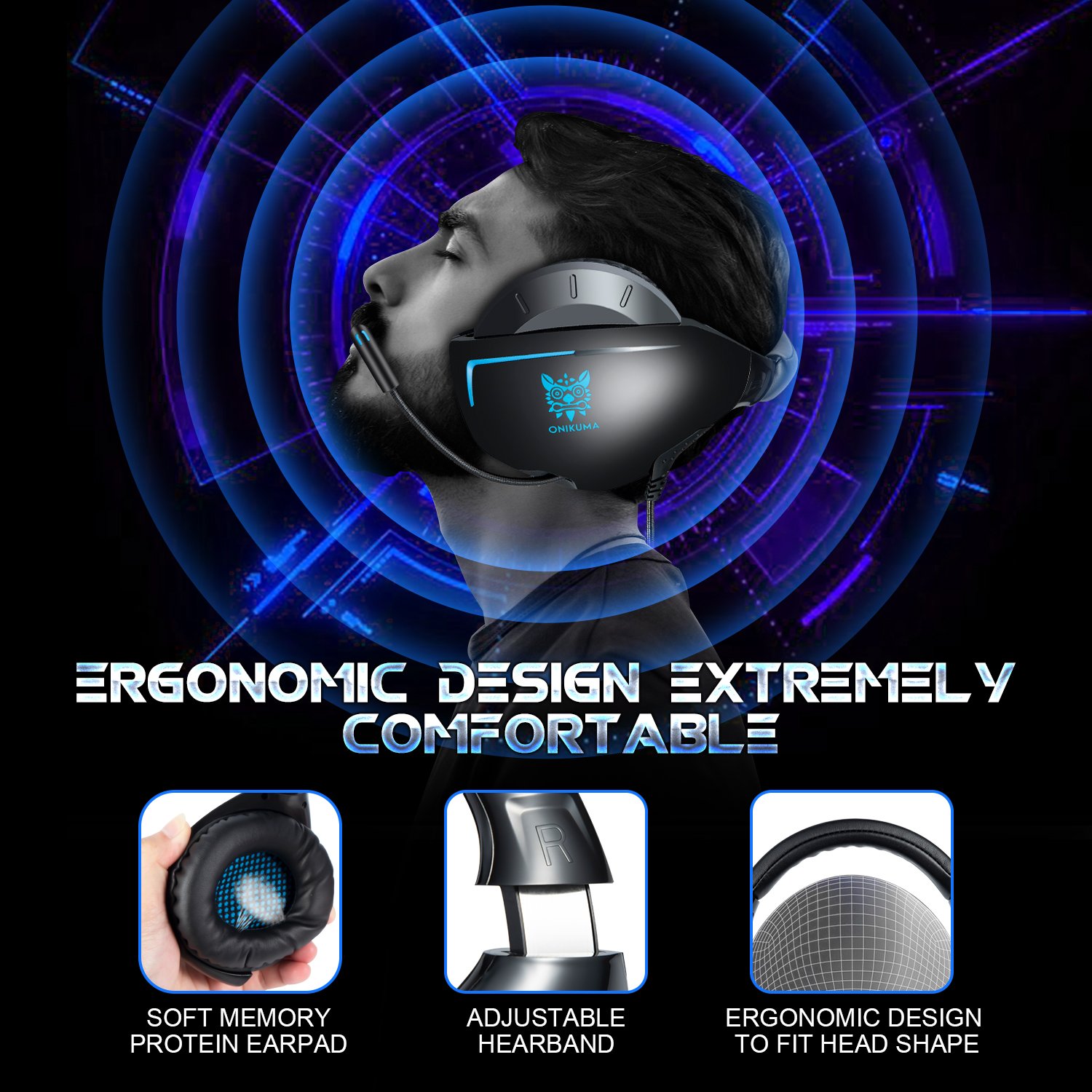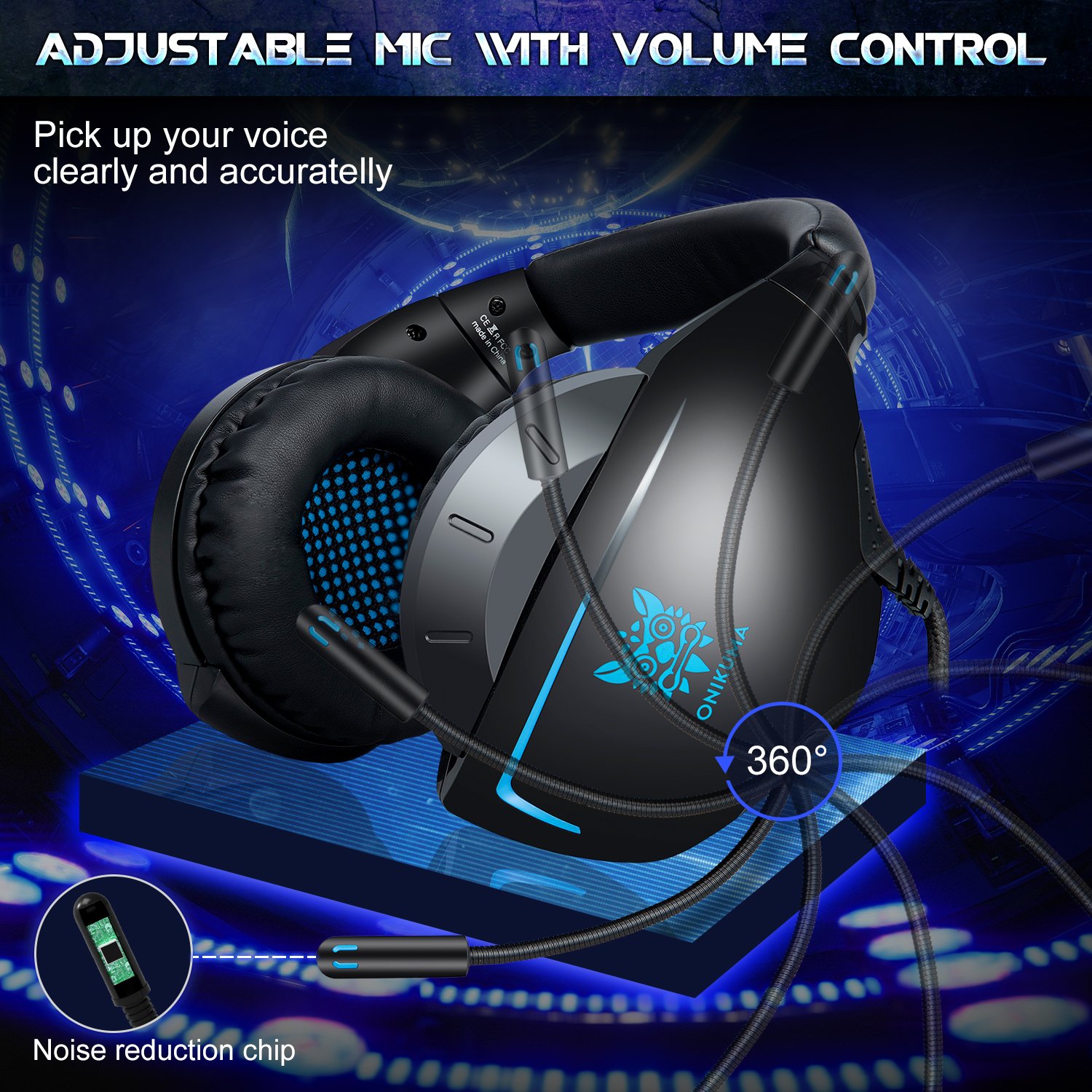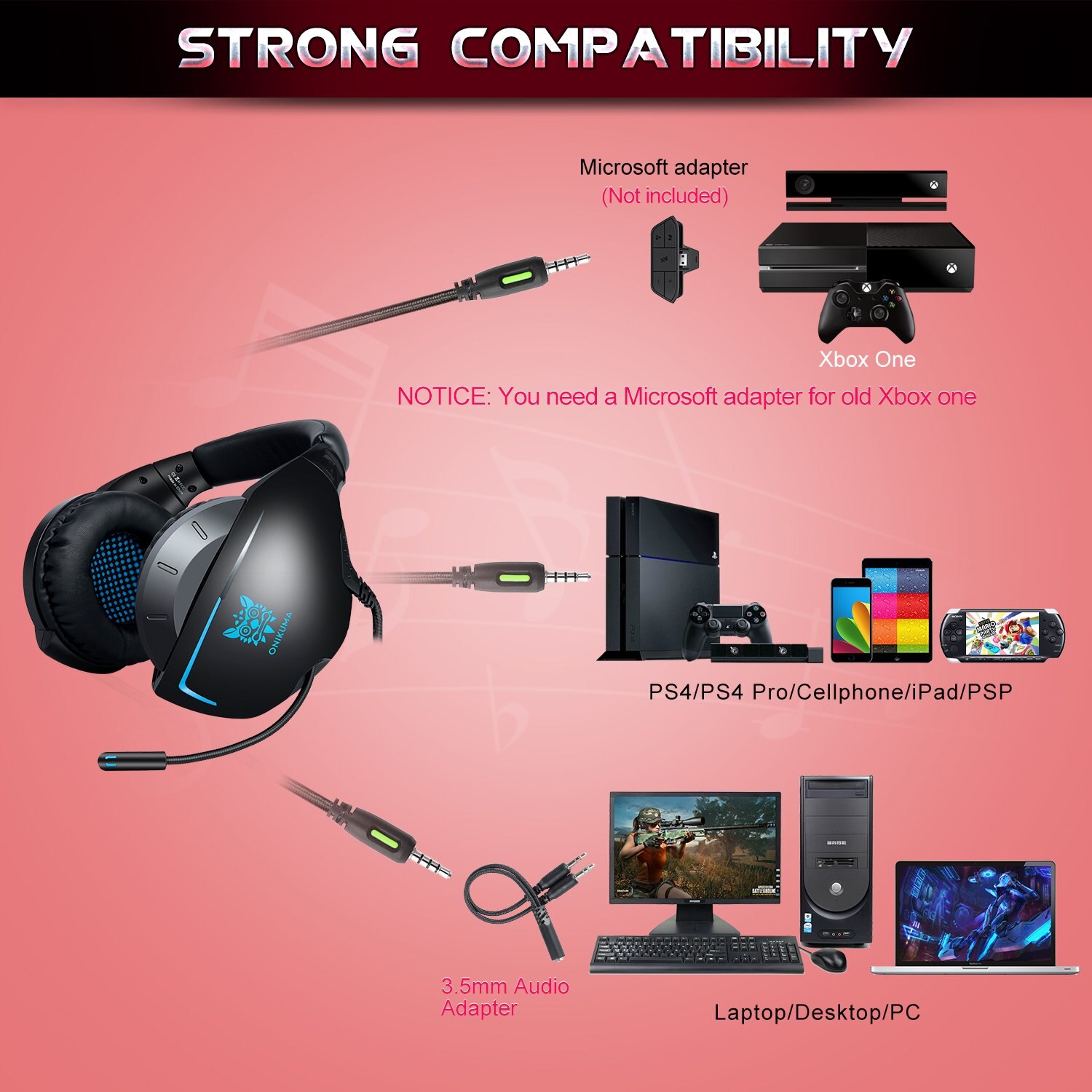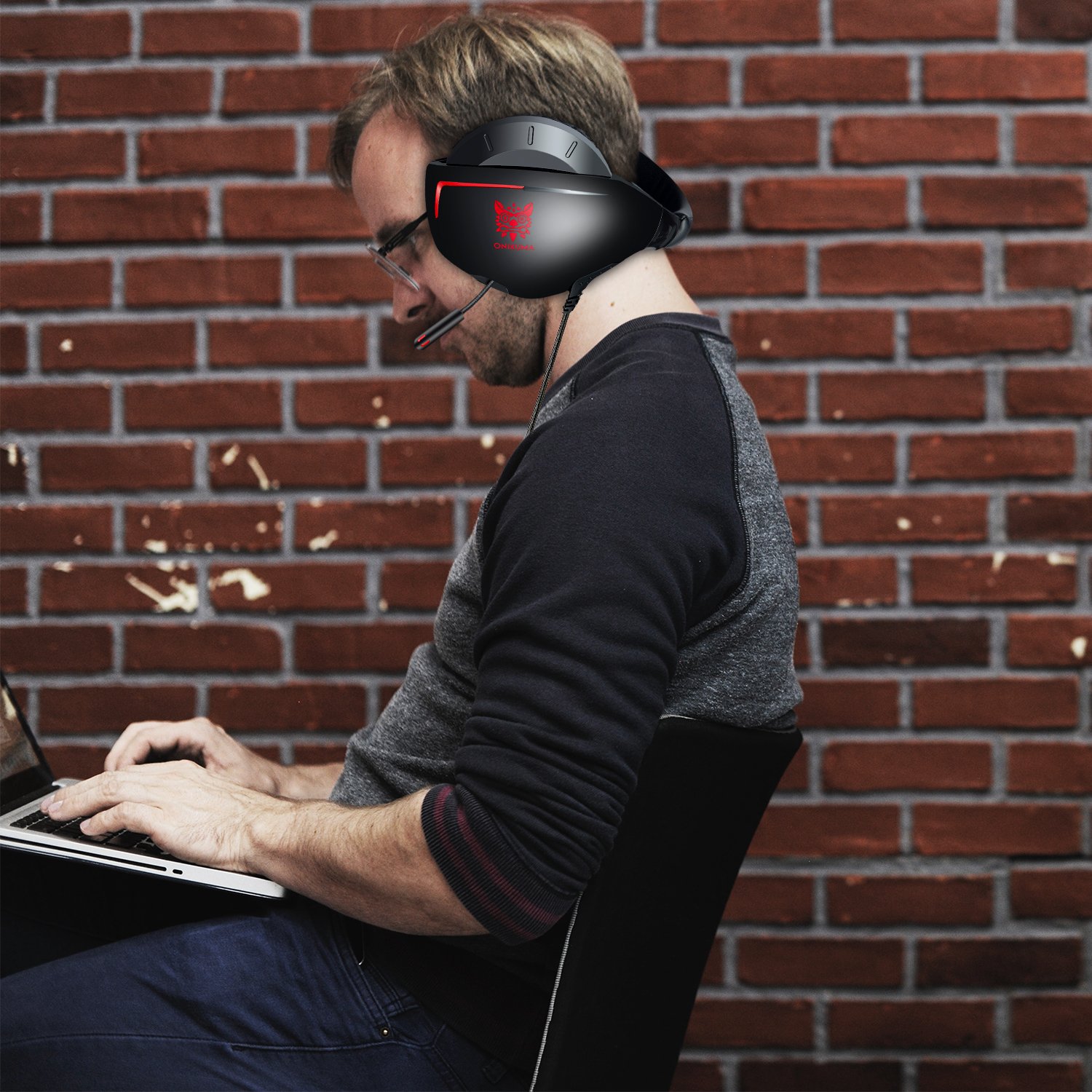 Package Contents:
1 x Pair of Gaming Headset 1 x Transfer Cable 1 x Multilingual User Manual ( English, Japanese, French, German, Spanish, Portuguese, Italian )